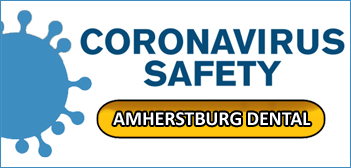 Amherstburg Dental has always maintained the best infection control and cross contamination elimination protocols due to the stringent standards demanded by our profession. We meet all of the updated current provincial guidelines for the management of COVID-19 safety. Our goal is to strive to exceed all infection protection and control protocols with enhanced measures. For your safety, we wish to go well above and beyond the guidelines for the 'new normal' in-person dental care as set by our professional governing bodies.  We have enhanced our dental office with new office renovations designed to help keep you safe and our staff safe; as we always have.
We are now OPEN to serve all your dental needs which include routine dental work like FILLINGS, EXAMS, and CLEANINGS. We are free to perform crowns, bridges, implant restoration and many other ELECTIVE services. We are happy to report that we are able to perform all deferred, non-essential, and elective services that we were unable to perform during the early stages of the COVID-19 pandemic. We are available to existing and NEW PATIENTS for emergency and urgent care. We have 3 full-time dentists to serve all of your family dentistry and cosmetic dentistry needs.  We hope to see all of you very soon!
Please call Amherstburg Dental at 519 736-4073 at your earliest convenience to make an appointment today.