Happy Halloween again everyone. I just wanted to post a few pictures from the LaSalle Vipers Game sponsored by Amherstburg Dental Family Dentistry on October 27th. We had a huge attendance at the game with several great costumes amongst the fans attending. The fans dressed in costume included Scooby Doo, Cruella de Vil, a Viking, Cheerleader Twins, and a very scary Wolfman and Grim Reaper. The fans that arrived dressed in costume were handed out door prizes. Mini-Vinnie, the LaSalle Vipers mascot, handed out other prizes to all the children in the audience during gameplay. Moreover, Amherstburg Dental handed out all three hundred prizes that we donated. The LaSalle Sabres Atom AE team dressed in their championship medals and their championship trophy were invited to the red carpet for the pre-game ceremony.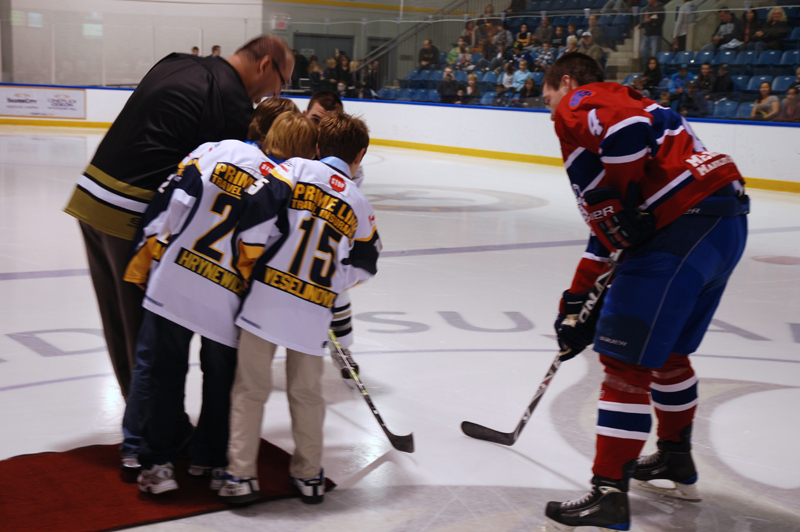 The LaSalle Sabres Atom AE Captains Matthew Veselinovic, Curtis MacMillan, Bret Hyrnewich and I (Dr. Zeljko) were invited to drop the ceremonial puck. Then we all stood proudly mid-ice for the playing of the national anthem. Later we posed outside of the arena for a team photo.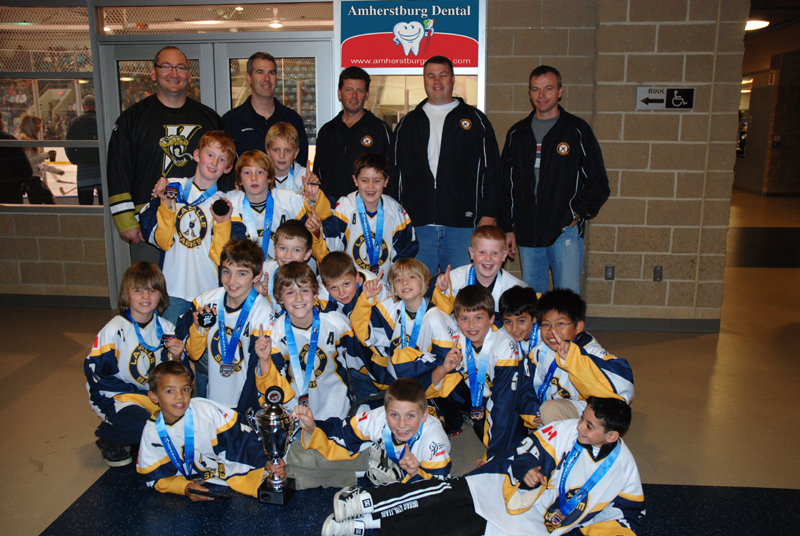 Pictured from left to right are:
Top Row –  Dr. Zeljko Veselinovic, Trainer Dan Cartwright, Assistant Coach Dan Bjorkman, Assistant Coach Scott Heavens, and Assistant Coach Jeff Hrynewich.
MIddle Row – Joel Cartwright, Assistant Captain Bret Hrynewich, Ben Diab, and Kevin Ward.
Bottom Row – Mack Taylor, Assistant Captain Matthew Veselinovic, Ethan Kopecky, Assistant Captain Curtis MacMillan, Jacob Heavens, Thomas Bjorkman, Kyle Blain, Mitchell O'Keefe, Matthew Dantas, and Jason Li.
On Floor – Goalie Nick Zuidema, Nick Dyer, and Goalie Nick Touma.
*(Photos are courtesy of Team Photographer Matt Zuidema) – Thanks Matt!
Many thanks to Dave Dyer and the wonderful people of the LaSalle Vipers organization for allowing us to participate in this fun event. Together we helped raise funds for the LaSalle Sabres Atom AE Team for player development and raised dental awareness with our prize giveaway. We hope to see our kids play for the LaSalle Vipers, Windsor Spitfires or in the NHL one day. Amherstburg Dental Family Dentistry hopes we can be part of this wonderful event again next year!
Best Wishes… Dr. Zeljko